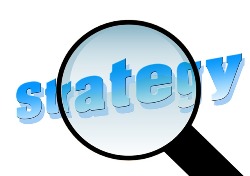 There is a sea full of different brands in the market but the content marketing research tells that still majority of these brands does not have a documented marketing strategy. Developing a content marketing strategy for your brand is as essential as keeping the quality of your content top-notch. A quality content is worth only when it reaches the targeted audience and can turn your readers into your brand's prospects. And this is possible only when you have a string content marketing strategy including all the necessary key tactics.
If your targeted audience is not giving your company the expected business even when your content is like a diamond in coal mine, then this simply means your content marketing is not appropriate. If your brand has a documented content marketing then chances of your brand to be more effective than brands with no or poor content marketing strategy is cent percent. But having a content marketing strategy alone is not enough as there are several key points you must always remembers while documenting your strategy. You miss these few key points out and the results will become disastrous for your brand's sales and overall business output.

Reducing pages and steps using links to relevant information
When your reader is able to access the desired information easily through your content only then your content is marketed efficiently. Using links for relevant information is always a good idea and it is not promotional. It helps the prospects to reach their purchase related content easily unlike going through several pages and numerous steps that increases chances of losing your prospect instead.

Make time-limited offers
There might be several potential buyers for your product but majority of them require a price incentive to join you and follow you on social media. For this you must make an offer that your prospects can't refuse like giving price saving deals on purchases. But since people have this bad habit of getting trained into buying only doing sales so keep these price savings deal for limited time period. A survey conducted by Coupon Machine "While giving a limited time period for any offer increased in traffic and sales of the product". Without a time limit your buyers can develop the habit of buying only at discounts and that might make hard for you to cover your costs. So time limited offers are the best to gain the prospects' interest and acquire customers efficiently.

Provide business contact information
Your content might be good, in fact better than that present on other websites but if your prospect is unable to contact you easily and efficiently then you might lose potential customers without even realizing it. You must always include your personal details like phone numbers, e-mail ids, and permanent addresses in your content as it facilitates effective interaction between your customer and you. Again a common tendency of people is to give business to companies that offer them flexibility in buying process. So include social media contacts, fax numbers and anything else depending upon your business so that your prospects can order in any way they want.

Maintain buyer persona
Buyer persona is a very useful tool and a-must-to-include in your content marketing strategies. Buyer persona tells "who" we are dealing with and during the development of content for your website it's the buyer persona that provides required context to frame your stories.
Content for your website might be, at one time, being written by freelance writers, employees, outside bloggers or other individual agencies and for these outside writers buyer personas are very crucial in keeping them focused on "whom" to your company is writing for. Your targeted audience need content optimized for their interest only and so writing content by keeping in mind the buyer persona makes your content more focused and precise.

Social media engagement
Social media sharing is now the most important and also the most rewarding way of marketing your content. Most of the people understand the sharing icon on social media websites and though not all who share the content actually read it but again the odds of people really reading the content is always more favorable.
Your content must always include social media icons in it, in fact there must be social media icons always present at the start and at the end of your content. You can also include the sliding vertical social media sharing icons that allows the readers to share the content at any instant during their reading-time.

Avoid offline sharing getting stonewalled
Social media sharing has made such a hype now-a-days that marketers often forget the very basic and essential tool for content marketing. Offline sharing means using the print magazines for marketing your content and this is a thing only a few marketers include in their content marketing strategies. The reason being its complex process as compared to the social media sharing. With offline sharing there is an additional cost for processes like editorial, production and circulation development, while there is no such additional cost involved with social media sharing.
There are lesser chances of people sharing the content on social media sites actually reading it as compared to people taking actions immediately after reading content on magazines. Social medial is so much clustered now with competition and this gives best opportunity to spend on print magazines for your content as this "old school" content marketing strategy is still more successful than social media sharing.
So the above-mentioned content marketing strategies are few things that must-not be missed and if your sale is not what you expect it to be then definitely it's the case. So while making your content marketing strategy always keep in mind these 6 tactics that will help in converting your readers into buyers.



Author: Kuldeep Bisht
Courtesy: www.dailyseoblog.com