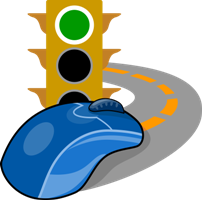 A new survey tells us that 63% of B2B marketers use website traffic as their primary metric for the success of their content marketing.
It makes sense. The more people come to your website, the more people see your goods and services and the more chances you have to sell those goods and services. What's more, larger amounts of traffic reflect greater online visibility and increased brand awareness, and who doesn't want that?
But the wrong traffic can just be more people coming to your website and not buying anything. Before you celebrate your traffic increase — or feel bad because your traffic didn't increase — ask yourself some questions.
Is your web traffic real?
Some people pay for traffic, and they have to know that it isn't real. But there are other kinds of traffic that may be counted by your web analytics without benefiting you.
Direct traffic is usually people typing your web address into the browser bar or using a bookmark, but technically it's just any traffic that can't be identified. Sometimes a lot of direct traffic is your staff using the website or you making daily visits.
Referral traffic is usually someone clicking a link to your website, but some websites (semalt.com is a major example) send bots which Google doesn't identify as bots.
Search traffic is usually the best indicator of the overall health of your website, but sometimes people are lost. For example, the Harvard Business School case study on Beyonce might have brought a lot of traffic from people looking for Beyonce, not business.
Filter these deceptive traffic sources out of your analytics so you'll get accurate information.
Is your web traffic mostly customers?
We believe in providing helpful information and entertaining reading, whether visitors plan to buy or not. We've seen that helping people first and selling to them second pays off in the long run. However, you'll get more benefit from helping people who are your customers or your potential customers. If you want to reach people who need hip replacements, you shouldn't share guitar playing tips.
Check the Queries report in your Google Analytics and see what searches Google is showing your site for. If the queries you're showing up for aren't the things your customers want to know, you're getting traffic that doesn't really benefit you.
Sometimes that's fine. If you provide information about hip replacements and you provide hip replacements only in a limited service area, you lose nothing my sharing that helpful information with people outside your service area. Any extra cost in bandwidth will be balanced by an increase in authority. But you certainly want to make sure that you have plenty of traffic from your service area. That's the traffic you should be counting.
Once you're sure that your web traffic is real and relevant, go ahead and celebrate. If you don't like what you see when you look more closely, it's time to make changes.



Author: Rosamond Haden
Courtesy: www.hadeninteractive.com