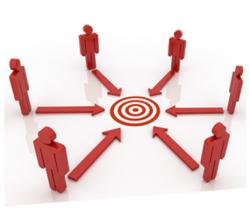 One of the key challenges for businesses planning international expansion is tailoring their content and SEO strategy to local markets.
The intricacies of local language and colloquialisms means it's not as simple as just running your keywords through Google Translator and hoping for the best.
At Econsultancy's Funnel B2B marketing conference Search Laboratory's Ian Harris outlined the three steps involved with adapting websites for international markets.
Here's a run through of his main points…
1. Identify the markets
Before you rush into a new marketplace it's vital to work out whether the business opportunity exists and if it does, can you compete there?
Harris recommended that businesses start with Google's Global Market Finder Tool, which shows you information on your chosen search terms and the countries you want to target.
The results are ranked by opportunity based on the number of searches and suggested bid price.
But Harris said that while it's a good starting point, businesses still need to do a full investigation before embarking on a new market.
"Any automated system is hopeless if you want to properly analyse a market to go into. It's a machine translation and doesn't take into account any local knowledge on market conditions."
2. Getting enquiries
Once a market has been identified the temptation is to translate the whole website into the local language, but it's an expensive job and doesn't necessarily lead to enquiries.
Instead, Harris advised that businesses run a PPC campaign that includes localised landing pages or a minisite.
In order to localise the content it's important to use mother-tongue speakers who know colloquialisms and natural terms, rather than literal translations of your English keywords.
This will ensure that customers actually find your site and will lead to enquiries if there is local demand for your services.
3. Build a lasting presence
If your PPC campaign reveals that there is an opportunity to expand into a local market then the next step is to build a lasting presence using SEO.
This is where businesses need to begin the process of translating their websites into the local language.
But in order to avoid creating any problems between the translators and local SEO teams, Harris recommended having the SEOs involved with the translation process so both know what is required.
"The potential rewards are massive, as in the UK we're good at SEO marketing, but when you roll out into other languages they tend to be less competitive."
Responding to a question from the audience, Harris said that quality content is necessary for link building in foreign markets.
However he warned businesses off the temptation to pay for links.
"A lot of link building is now phone based, it's a bit like a sales job. But you still need to build natural links with good content, you shouldn't go out and pay for them."
Author: David Moth
Courtesy of www.econsultancy.com
Share