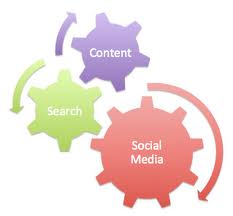 Multimedia content, such as infographics and videos, is user-friendly and highly sharable. And, because multimedia content is not text-centric, it can easily be "repurposed" for use in your offsite content and across your social media channels.
But, if created haphazardly, this type of content can harm your brand by appearing sloppy and unfinished. Instead of rushing to compete, or publishing content that doesn't put your "best foot forward," take a step back and focus on creating quality multimedia content that gets noticed.
Creating Quality Video Content
Thanks to the availability of inexpensive video cameras and video editing software, you don't have to spend a lot of money to create great videos. But you do have to be mindful of a few "make-it-or-break-it" concepts. These include:
Sound Quality – Users never want to watch a video where they hear white noise, or where the audio sounds muffled or distant.
Visual Content – If possible, provide content from a variety of shots, images and/or camera angles. This will help your videos to be visually interesting.
Branding – It's a great idea to "brand" your videos by including a graphical introduction that runs in the first 1-2 seconds of each video.
Make sure that the introduction does not run for more than 1-2 seconds. Anything longer may cause the user to lose interest.
Once created, video content can be used on social media channels such as Facebook, Google+ and YouTube, and on your website. Just make sure to write unique, keyword optimized introductions to help your videos get noticed.
Creating Quality Infographics
When done correctly, Infographics are highly-sharable "link bait" that can help create groundswell around your products and ideas. The best Infographics have a few things in common:
They are visually appealing.
They have a single, specific purpose.
They use pictures to tell a story or illustrate a point.
They are easy to understand and follow.
Infographic content can live on your website (usually as part of a larger blog post), as well as be repurposed on your Facebook, Google+ and Pinterest pages. As with video content, be sure to use unique, keyword optimized description content and tags, so that your infographics can be found, wherever they are.
The Best Ideas Win
As with any content, the multimedia content you create should be useful to your audience. In other words, it should do more than sell.
Steer clear of creating promotional content and focus on providing solutions and illustrating points. If you can do this in a way that entertains, all the better.
Author: Lauren Owens
Courtesy of www.morevisibility.com