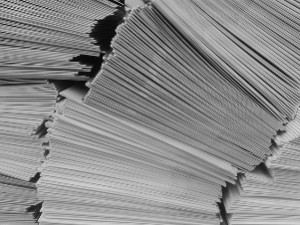 Congratulations!
You've made a very sensible business decision, and you've hired a copywriter to create some new content for your company. You're holding (or, more likely, looking at a digital version of) some professional, compelling content. It does exactly what you need it to.
But could you use it for anything new?
Once you've paid for your copy, you own it. So it makes sense to see just how useful you can make it. With a few hours of your time, and a bit of effort, your new blog post could be repurposed, reused and recycled to put your message in front of an even larger audience.
Here's five free ways to do just that, and one content stretching tactic you shouldn't ever bother with.
1. LinkedIn
Content to be repurposed: Blog post, article or company news post
Difficulty level: Simple (editing)
For years, LinkedIn was viewed as a strange "Facebook for businesses," where you'd upload your CV, connect with everyone in your email contact list, and then spend months absent-mindedly rejecting requests from recruitment agencies.
Pulse changed that. Thanks to LinkedIn's built-in blogging system, you can now give those business contacts genuinely useful and interesting content, instead of the short Facebook-style updates users had relied upon. So if you've paid for a blog post, article or news post, you'll be able to share it with a few clicks.
If you're strapped for time, your post can simply be copied and pasted into LinkedIn. Your contacts will still get the message, but they'll never leave LinkedIn. There is another way.
Trim down your blog, leaving part of the content and an interesting hook. Then, slap a link back to your site at the end of the post, and watch your contacts follow it back to your website. Which is where you want them to be.
Use your copywriter: When you purchase a blog post, ask the copywriter to provide an edited down version for LinkedIn too. They'll charge for the editing time, but it shouldn't inflate the fee too much.
2. Newsletter
Content to be repurposed: Blog post, article or company news post; pitch email
Difficulty level: Simple (editing)
You've got a few articles on your company blog or news page, and you've got a huge list of emails for clients, contacts and potential customers –
– What? You don't have an email list? Well, start recording email addresses with MailChimp. They'll help you set up a registration form like this one for the 603 Copywriting newsletter in a matter of seconds –
– sorry, you've got content, and you've got email addresses. So let's introduce one to the other. Take a look at your posts, and cut down the introductory paragraphs to use as a hook for your newsletter. Add two or three article hooks like this, along with a summary of any offers you've sent in your pitch emails. And voila! An instant newsletter.
I recommend using MailChimp to design and send your newsletter, but you can always hire a web designer and send the resulting email through your regular email client.
Use your copywriter: If your copywriter created your posts and pitch emails, then newsletter content isn't much extra work. Remember to ask them if they can provide summaries that you can use in a newsletter.
3. Press Release
Content to be repurposed: Company news post; product launch pitch
Difficulty level: Intermediate (rewrite)
Unless you're Arianna Huffington, it's likely that your local paper has a larger readership than your website. So getting your company news into the press is a great way of getting eyes on your products and services.
And that news post your copywriter's put together for you? That's not far off being the sort of article you'd see in the business pages. So find the email address of your local business correspondent and send them an edited copy of your news post. Just make sure you follow these press release rules when you're tweaking your content:
You're not a journalist. Stick to the facts, and leave the pun-tastic headlines to the subeditors.
Be dispassionate. You might believe your new product is the best thing since sliced bread. It might even be true. But a journalist probably won't believe you. So stick to the facts.
Add supporting statistics. "company launches product" isn't news. "40% of web designers claim lack of written content holds up their designs – new copywriting agency aims to change that" has the makings of a story.
Use a quote. You're going to be in the paper, so demonstrate some of your knowledge and expertise with a quote about the story being covered.
Use your copywriter: If you don't think you can stick to those rules, ask your copywriter to create a variant of your post to be sent as a press release. There still aren't any guarantees that you'll grab those column inches, but you'll stand a better chance.
4. Video Post
Content to be repurposed: Blog post or article; FAQ section; sales page
Difficulty level: Intermediate (rewrite, recording, video editing)
Every day, millions of people watch billions of hours of video on YouTube. And it's not all cat videos. People like to see video content from businesses they engage with. So why not use your content to form the basis of a video presentation? Straighten up your tie, grab the webcam and start reading.
Using video editing software to add a little visual interest can't hurt either, but as long as you can speak clearly and convincingly, you'll do a good job. Just don't be tempted to put on silly voices when doing a video Q&A session based on your FAQ page!
Use your copywriter: If you'd like a version of your post edited as a script for your video, your copywriter will be happy to oblige. They might even be able to recommend a video production company to help you add some gloss to your small screen efforts!
5. PDF Download
Content to be repurposed: Flyer or brochure
Difficulty level: Simple (uploading)
This is the most simple way to spread your content further. That brochure or flyer you're having printed? Add it to your website as a PDF download. No editing required.
I wasn't lying. It is that simple.
Use your copywriter: If you've used a copywriter to create your flyer or brochure, they'll have tailored it to your audience. You don't need to ask for anything more!
And one to avoid…
Article Spinning
Content to be repurposed: None of it. Seriously, this is pointless.
Difficulty level: Even an idiot could do it.
Article spinning is a way of quickly re-writing articles so you can republish them on article sharing websites. You can either manually spin your content, using a thesaurus tool and your own imagination, or make use of one of the automatic spinners infesting the web.
It's uniformly terrible. Here's the opening paragraph of this post, having been run through a spinner:
Congrats!

You've made an exceptionally reasonable company decision, and also you have hired a new copywriter to create many new information to your organization. You might be holding (or, more likely, thinking about an electronic edition of) many specialist, compelling information. It lets you do precisely what you need that to be able to.

Although is it possible you put it to use intended for something new?
If you can read that without wincing, you're a tougher person than I am. But let's say you don't have any concerns about putting out barely legible content in your company's name. You're armed with your spun content, and you're going to place it on as many article sharing sites as possible.
Well, good luck. Because Google's last round of updates completely devalued links from article sharing sites. So you'll see very little (if any) benefit to publishing rubbish content. Although your reputation might take a hit.
Use your copywriter: Ask for a series of related articles, and see if you can place them as guest posts on blogs in your niche. A good link from a well-regarded blog is worth infinitely more than a set of devalued links from article sharing websites.
There you have it. Five free ways to put your professionally-written content to work. With just a little effort, you can enjoy even more attention from potential clients.
Courtesy: www.603copywriting.co.uk