More new features were added to RSS posters and Amazon RSS feeds Generator at RSS Ground.
Continue Reading →
Share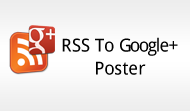 Following the numerous requests from you and our own intention a new RSS to Google+ Poster has been added to RSS Ground arsenal!
The set of RSS Ground posters would never look finished without Google+ poster. Since Google+ is one of the most popular social networks we consider it to be a vital necessity to have along with other posters.
Now you will be able to make scheduled posts ...
Continue Reading →
Share
Hello dear RSS Feeds Generator users!
We welcome you in our blog where we will provide you with related articles on Internet marketing thematic.
We will try to cover not only question which consider RSS content technologies and RSS tools usage, but also touch upon all major issues concerning todays trends in online business.
Here you will also find information on all updates and upgrades of our RSS tools and RSS services.
One may also get advantage of our featured promotions and presentations.
Stay ...
Continue Reading →
Share