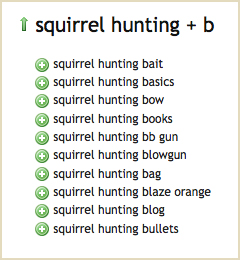 A successful SEO campaign starts with choosing the right keywords. Growing your business beyond the initial campaign involves expanding your keyword list and this can be difficult at times. You're in need of new keyword ideas and new opportunities but you don't know where to look. There are a ton of SEO tools out there that can help you but it can be difficult to know where to start. Frustrated, you might just give up and continue plugging away at your current keyword list.
Don't give up, this blog post is here to help. The following tools and tips will help spark new keyword ideas and untapped opportunities. Who knows, you may even find new verticals that you never thought of or you might stumble across a new idea for a linkable asset your company can build. The possibilities are endless as long as you know where to look.
Keyword Research Tools and Tips
Google Autocomplete
There are a number of ways you can use Google Autocomplete to help you find new ideas. A few of the tactics I like to use are:
1) Don't Hit Enter
This method has been mentioned by Wil Reynolds and a few other people but I thought I would reiterate how simple and quick this trick can help you find new keyword ideas. Simply, take some of your top keywords and plug them into Google. Don't hit enter and make sure there is a space after your keyword. You'll see keywords that are already on your list but you'll also get a glimpse of what else people are searching for when they type in your keyword.
2) Space Before the Keyword
Similar to the "Don't hit enter" approach, plug some of your keywords into Google but this time put a space before your keyword. You'll find that this tactic will give you ideas for modifiers you can use to expand your keyword list.
3) Five Ws and One H
We were taught to ask who, what, when, where, why, and how in school so why not ask these questions while we're searching for information on Google? Instead of adding a space before your keyword, you can add these terms before your keyword to help find questions people are asking. This tactic will definitely give you new ideas that you can use to create unique content for your target page.
Google Trends
Google Trends is a great tool to keep in any SEO's arsenal. It can give you a lot of insight into a particular keyword but the main feature I like about Google Trends is that it will show you the search interest for a keyword over time. In addition to the keyword trends, it will also give you related terms in the bottom right corner. Check out the "top" keywords as well as the "rising" keywords to spark some new ideas.
Google Webmaster Tools
Google Webmaster Tools (GWT) is an extremely powerful tool. There is a lot of information you can pull out of GWT but I find myself browsing around the "Search Queries" section when I'm looking to expand my keyword list. To get there, click "Traffic" and "Search Queries" and GWT will populate with keywords that are driving impressions & clicks for your website in the search results.
Take a look at some of the keywords, you'll see a lot of them are already on your list but you'll also see keywords that are not on your radar and are driving impressions and clicks. From here, I like to see where I'm ranking for those keywords and if I have the term mentioned on the target page. If not, find a place to NATURALLY squeeze the keyword in and that might give you a bump for that particular keyword.
Google Analytics
Although (not provided) has put a dent in the amount of keyword data we can see, Google Analytics is still a good tool to use when you want to expand your keyword list. There are different ways that you can slice up the data but one tactic I like to use is looking at the keywords that are driving traffic to a particular landing page.
Do this by clicking "Traffic Sources" > "Sources" > "Search" > "Organic" and make sure your primary dimension is set to "Landing Page". Now, take some of your top landing pages and plug them into the search box. You'll see all of the keywords that have driven traffic to that particular page. A lot of the keywords may already be on your list but there will be little nuggets of opportunity waiting to be picked.
Google Synonym & Related Searches
The ~tilde, simple yet powerful. To find new keyword ideas using the tilde, all you need to do is take your keyword and add a ~ before it. Google will spit out synonyms that it thinks are related to your search term. This is great for new keyword ideas as well as new anchor text ideas to help you diversify your link profile. While you're in there, don't forget to check out the related searches at the bottom of the search results page. This is also another great place to find additional keyword ideas.
As I said before, there are a ton of SEO tools that can help you with finding new keyword ideas. These are just a few of the tools and tactics I like to use to help get the ideas flowing. Other tools that I recommend checking out are Ubersuggest, Soovle, and SEMrush. Hopefully you found this post as a good refresher that there are easy to use tools and tactics that can really help spark ideas on how to grow your business.
Happy researching!
Author: Hoa Cong
Courtesy of www.seerinteractive.com