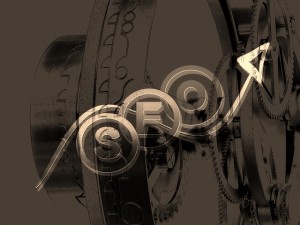 If you're in the business of SEO, you're already well aware of the taxing chore of keeping up-to-date with the latest and greatest strategies. Luckily, here at Eyeflow we've worked to compile a list of our favorite SEO video tutorials and resources, helping you stay on top of all the latest SEO tips, strategies and trends to put you ahead of your competitors and on top of Google's search engine rankings.
What better of a source than the experts themselves. Google's Webmasters video series provides in-depth details and tutorials on Google Webmaster Tools, helping you to understand and improve your site within the eyes of Google search bots.
Google Employee Matt Cutts has recorded several videos to help struggling sites bounce back in the Google search engine rankings. From the most common SEO mistakes to the complexities of link building, the Short Cutts aims to provide the short answer to any SEO question out there.
Again, video tutorials from Webmaster Trends Analyst John Mueller allow you to get information straight from the experts at Google. In his "Central Office Hours Hangout" series, viewers can get inside answers to all their technical website questions, as well as tips and tricks along the way to improve the quality of your site.
Featuring some of the best names in inbound marketing with the team of experts at Moz, Whiteboard Friday is a weekly video series that not only explains the inner workings of SEO, but also provide an illustrative explanation helping to drive the point home With several additional videos available through the Moz YouTube account, you can be sure to find the answers to any SEO question. For even more insight into online marketing, you can purchase video footage from the 2013 MozCon to learn from the brightest minds in online marketing.
At Inbound.org, a community of marketers share and discuss the best content, videos and tutorials from around the web. Their video page helps you catch up on a wide array of SEO video resources from around the web, ranking them by trending topics, most discussed, most viewed and more.
Search Marketing Expo is a worldwide search engine marketing conference, taking place throughout the world to cover a wide range of search marketing topics for beginners and experts alike. Not able to make one of their conferences? Don't worry, the SMX YouTube channel provides helpful SEO videos from each conference, featuring helpful tips, strategies and keynote presentations.
The Content Marketing Institute is the top source for any content marketing related questions. Bringing together some of the top minds in content marketing for testimonials, roundtable discussions and more provides viewers with the opportunity to learn from the best and improve their own content marketing strategies.
Each year, the Inbound Marketing Summit attracts a group of web, social and content marketing visionaries, influencers and attendees all coming together to learn and share ideas. Their SEO video series provides expert interviews as well as tips and strategies that can improve the skills of any marketer.
eMetrics is the top summit for big data marketing. Their comprehensive video series is dedicated to help industry experts and beginners master everything about digital analytics and marketing optimization. Covering everything from the impact of data and technology on marketing to how to drive results through data analysis, eMetrics is the perfect video resource for any marketing or IT professional.
NMX is an industry-wide conference dedicated specifically to the bloggers, podcasters, social media and mobile gurus of your company. If you are looking for video tutorials on new media, check out the extensive amounts of interviews, speaker presentations and more that NMX can offer you.
With 65 videos and counting, Common Craft offers educational explainer videos on everything from apps to SEO. Each one of their videos is about three minutes long and uses paper cut out illustrations to help you to learn and make the world a more understandable place to live.
With the constantly changing world of internet marketing, staying on top isn't always that easy. HubSpot's video series helps you attract more visitors, generate more leads and bring a sense of calm to the hectic world of inbound marketing. With videos on all things SEO, blogging, social media, marketing automatyion, personalization, segmentation and more, HubSpot's collection of videos will transform the way you market and sell to your customers.
This paid video resource helps you to improve your search rankings with SEO techniques from the experts. Whether you are new to the concept of SEO or just looking for a little something extra for your campaign, the SEO video tutorials at Lynda will help you learn how search engines work while exploring some of the best practices and strategies in the industry.
Offering over 133 hours of HD video footage from their highly attended conferences as well as a wealth of SEO training tutorials, Distilled provides information on the latest insights in the online marketing industry. Additionally, learn from some of the most forward-thinking leaders in online marketing today by subscribing to video footage from the Search Love conference.
With the help of these videos, you can vastly improve your own business's internet marketing strategies and boost your search engine rankings. However, when your DIY internet marketing efforts don't seem to be enough, the SEO experts here at Eyeflow are glad to lend a helping hand. Our team of expert internet marketing consultants and SEO strategists can help you build your brand's online authority while creating content that grows and engages a community of consumers. Contact Eyeflow Internet Marketing today and discover how our inbound marketing services can help your business reach its goals.



Author: Cory Bosket
Courtesy: www.eyeflow.com