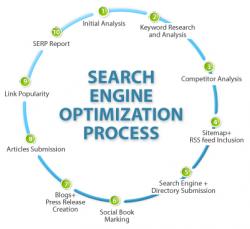 When a great product pops up in your niche and you want to promote it to sell the most you can – RUN from the typical stuff that everyone does and find unique ways to get the word out.
1. Social
If the product you're promoting is general interest, create content of general interest and advertise the product on that page. Then get the word out to your social networks thinking all the way about making it viral in nature.
Funny pics, videos, or insightful observations always get passed around on social.
Your ad will get exposed without having to "sell" people directly on the product. Which is the much preferred way to keep your social networks from tuning you out as "one of those marketers."
If your product has specific niche appeal, create content that appeals to that interest group and get your new affiliate ad into that content. Again, talk about things that really interest the group you're targeted, then expose your ad to them.
DO NOT make the content about the product at all!
Make it about one of the highest-interest topics your niche is interested in and place the ad around that content.
Pass it around your social networks and also look for groups you can share with in and around your social networks which are targeted to the demographic you're trying to get over to your new content.
2. Video
Most affiliate marketers, the bad ones, post low content, pushy, markety videos to YouTube and other video sites. Notice how most of them have 0 views. That's not working!
Create something on video that will help, inspire, make people laugh or think, or improve their lives in some way. Then link back to specific content on your site, or a landing page, in your video description to get viewers to seek more information or see more funny, inspiring, etc. stuff from you.
Make the video popular, then use the traffic to expose people to your affiliate product.
3. Your List
You might be getting the idea here. The key is not to be Mr. or Mrs. Obvious. That strategy has loser written all over it. When you want to sell more of anything, you build content that will interest the majority of the people you are after, based on interest. And that's ALL you think about at first – what's the killer content piece going to be?
Once you've got it together, make sure you approach your list with the attitude of "Hey check out this helpful/funny/insightful post I just made!" instead of "Hey come buy this stuff!"
Expose all the traffic to your affiliate product in the content, but make the content about a topic only related to what the product is. Base content on whatever is the most interesting to the people you are targeted, and let your product ad do the work it was intended to do as a part of the page you're sending people to.
Your list will respond to "help" or general/specific interest content a lot more than "hey come buy something."
This is what Super Affiliates do with content marketing to make a killing with their offers.
Courtesy of www.fridaytrafficreport.com